Product Specifications:
Manufacturer Part Number
Compatibility
Designed for the OWC ThunderBlade SSD storage solution. Not to be used with other products.
Housing Color
Material
Aluminum frame with silicon separators / feet
Dimensions
Height: 3.9 cm (1.5 in)
Width: 10.8 cm (4.3 in)
Length: 12.4 cm (4.9 in)
Weight
Notes
To avoid thermal issues, please do not use this product to stack the ThunderBlades on top of one another.
Manufacturer provided specifications for Other World Computing p/n TB3TBV4SPCER UPC#: 810586035040
This product is compatible with...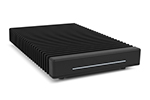 OWC Thunderblade
High Performance Storage Solution
Model # OWCTB3TBV4T
(1) ThunderBlade X Spacer
1 Year OWC Limited Warranty
ThunderBlade X Spacer
Merk: OWC
Model: OWCTB3TBV4SPCER
Beschikbaarheid: Op voorraad
€ 20,28

Excl. BTW: € 16,76
Tags: ThunderBlade X Spacer, OWCTB3TBV4SPCER, Thunderblade V4