Product Specifications
Supports: SATA 6Gb/s, 3Gb/s & 1.5Gb/s Interface 2.5" Drive
or SSD (Solid State Drive) of up to 12.5mm height.
Dimensions: 5"(D) x 4"(W) x 0.5"(H) (12.7 x 10.3 x 1.2mm)
Weight: 2.3oz. / 0.14lbs.
Product Manual: OWC Data Doubler
2 Year Warranty
This OWC Data Doubler is compatible with...
This OWC 6G SSD Model is compatible with most 2009-2011 iMac models including:
iMac 2009-current (All Intel Models)

NOTE exceptions below
Special note for 2009 iMacs.
We highly recommend the use of a SATA 2.0 (3Gb/s) SSD such as the
OWC Mercury Electra 3G
for the following iMacs:
While a 6G SSD does function, it will only do so at SATA Revision 1.0 (1.5Gb/s, 150MB/s) speeds rather that the SATA Revision 2.0 (3.0Gb/s 300MB/s) speed the computer can deliver.
The
Mercury Electra 3G SSD
is the OWC recommended upgrade option for the iMacs listed in the special note above.
OWC Data Doubler
iMac 2009-2011 Optical Bay Hard Drive / SSD Mounting Solution
drive not included
Includes almost everything needed to replace your optical drive with
a second hard drive or SSD
No tools included, select them
Boost your storage capacity by adding up to an additional 1.5TB of internal storage with a second hard drive, or enjoy near-instantaneous boot and app loading times by adding a Solid State Drive (SSD).

Configuration flexibility is yours when you replace your 2009-2011 iMac's internal SuperDrive with an OWC Data Doubler with a hard drive or SSD. The custom-engineered Data Doubler bracket comes ready to mount any 2.5" SATA drive up to 12.5mm in height.

Once you've installed the entire Data Doubler drive assembly into your 2009-2011 iMac's optical drive bay, you can customize how you want your internal storage to perform. Drive customization is easy and built right into OS X as the new Data Doubler mounted drive can be setup using Apple's Disk Utility program in which you can format the drive, create a RAID array using two drives together, or partition the new drive. Once formatted you can also setup the second drive as a Time Machine backup so you can take your backup with your wherever you go.

OWC provides free installation videos that guide this DIY upgrade step-by-step for each specific Mac model. Data Doubler also comes backed by OWC's award-winning U.S.A. based technical support team which is readily available to assist you with your upgrade should you have any questions.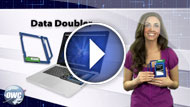 You don't have to give up your optical drive completely if you don't want to. You can reuse the original SuperDrive with the Slim otical drive enclosure for Apple SuperDrive.
*Professional installation of Data Doubler into an iMac is highly recommended due to degree of installation difficulty
OWC Data Doubler Optical Bay HD/SSD Mounting Kit iMac 2009-2011 (geen tools)
Merk: OWC
Model: OWCDIDIMCL0GB
Spaarpunten: 24
Beschikbaarheid: Op voorraad
€ 23,07

Excl. BTW: € 19,07
Gerelateerde producten
Tags: owc data doubler optical bay hdssd mounting kit imac 2009-2011 geen tools, owcdidimcl0gb, owc, hdssd montage-oplossingen imac